Prestige Car Port | 6.0x5.0m
Tax included
Shipping
calculated at checkout.
---
Prestige Car Port | 6.0x5.0m - 28mm is backordered and will ship as soon as it is back in stock.
---
Couldn't load pickup availability
Prestige Car Port | 6.0x5.0m
Introducing the Prestige Car Port | 6.0x5.0m

Enhance the elegance and functionality of your outdoor space with the Prestige Car Port | 6.0x5.0m. Crafted by Timber Building Specialists, this exceptional car port combines style, durability, and versatility to provide the perfect shelter for your vehicles.

Designed with meticulous attention to detail, the Prestige Car Port | 6.0x5.0m is a true testament to quality craftsmanship. Its robust timber construction ensures long-lasting strength and stability, allowing you to protect your cherished vehicles from the elements with peace of mind.

With a generous size of 6.0x5.0m, this car port offers ample space to accommodate multiple vehicles, making it an ideal choice for families with more than one car or for those who simply desire extra storage space. Whether you need to shield your cars, motorcycles, boats, or even outdoor equipment, the Prestige Car Port has got you covered.

Not only does the Prestige Car Port | 6.0x5.0m provide excellent protection, but it also adds a touch of sophistication to your property. Its sleek design seamlessly blends into any architectural style, enhancing the overall aesthetic appeal of your outdoor space. Whether you have a modern, traditional, or contemporary home, this car port effortlessly complements your surroundings.

Assembling the Prestige Car Port | 6.0x5.0m is a breeze, thanks to Timber Building Specialists' commitment to user-friendly construction. With clear instructions and all the necessary components included, you'll have your car port up and ready in no time. Plus, its modular design allows for easy customization and expansion, ensuring a perfect fit for your specific needs.

Invest in the Prestige Car Port | 6.0x5.0m today and experience the ultimate combination of functionality, durability, and style. Timber Building Specialists have created a car port that not only protects your vehicles but also enhances the overall aesthetic of your outdoor space. Don't settle for anything less than excellence when it comes to safeguarding your valuable assets. Choose the Prestige Car Port | 6.0x5.0m and elevate your outdoor living experience.
TECHNICAL SPECIFICATIONS
Design Type - Post And Beam Construction / Carport
Roof Form - Apex Roof
Thickness - 28 mm
Wall Outside Dim (W/D) - 596 x 506 cm
Side Wall Height - 230 cm
Ridge Height - 387 cm
Cubic Content - 93,6 m³
Wall area - 42,5 m²
Roof Overhang All Around - 30 cm
Roof Slope - 22 °

At Timber Building Specialists, we offer nationwide delivery across the UK for all our products. Our delivery vehicles are specially designed to cater to different products, and we rely on our customers to inform us of any restrictions when ordering. Generally, we require a 10ft wide clear access with a 10ft height restriction, but with our expertise and experience, we can overcome most obstacles as long as we are informed in advance. In some cases, an additional fee may be charged. Our friendly and professional staff are always available to assist you in case of any doubts, so please do not hesitate to contact us.
Bespoke Log Cabin
Customise Your Log Cabin
If you would like to make amendments to one of our cabins, or would you prefer a fully bespoke design, Fill in our custom log cabin form with some details on your project and upload your plans for a free, no obligation quote. Our experienced team will get back to you as soon as possible.
Speak To Us Directly
---
Log Cabin Features
Features of the Prestige Car Port | 6.0x5.0m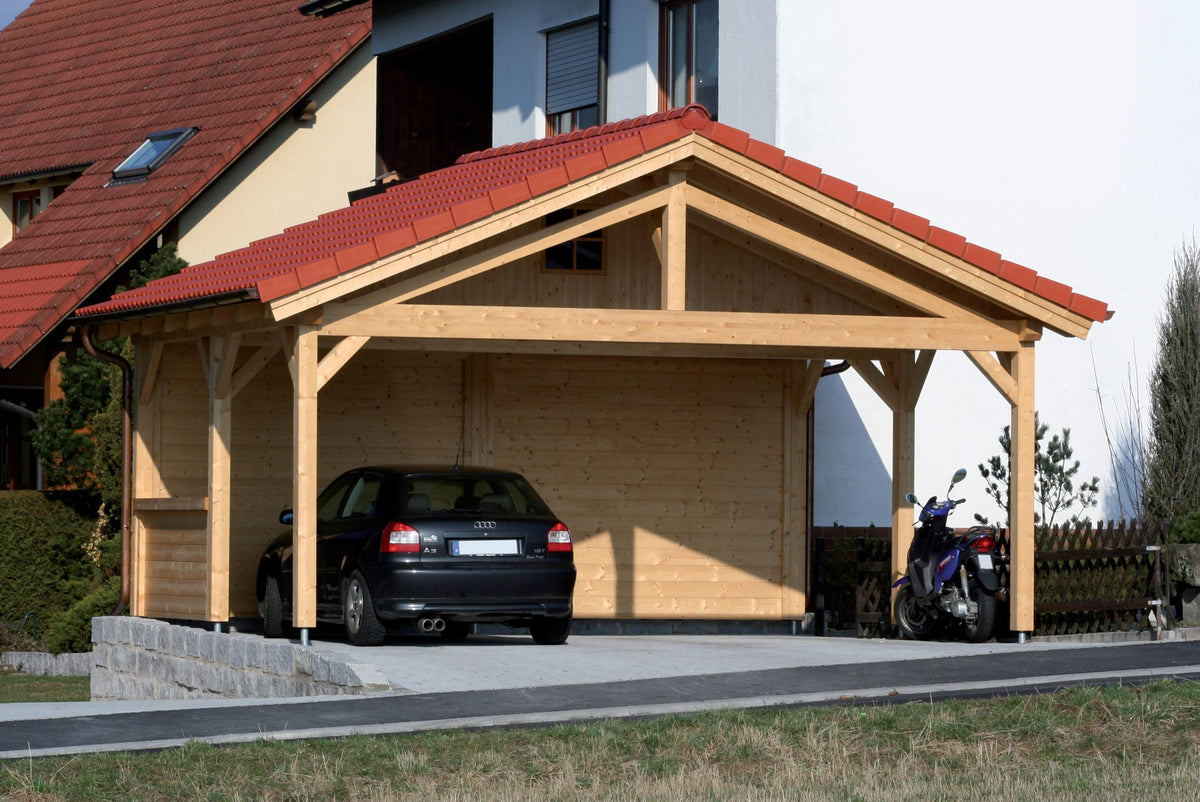 More From The Timber Building Specialists
Nationwide Fitting & Base installation

At the Timber Building Specialists we offer Nationwide Fitting & Base installation. Each fitting and installation quote is bespoke to your log cabin requirements, therefore we ask you to get in touch with us via phone or email for an accurate quote and time frame.

Customised Log Cabins

At Timber Building Specialists, we provide bespoke log cabins that are built to your exact requirements. Create a unique design tailored to your specific needs, and our experienced staff can help you plan out your cabin layout, size and style. With us, you can choose from a variety of layouts and custom options such as the size, shape, and positioning of windows, doors and verandas.

More Information:
Base Installation, Log Cabin Fitting