Delivery
At Timber Building Specialists, we offer nationwide delivery across the UK for all our products. Our delivery vehicles are specially designed to cater to different products, and we rely on our customers to inform us of any restrictions when ordering. Generally, we require a 10ft wide clear access with a 10ft height restriction, but with our expertise and experience, we can overcome most obstacles as long as we are informed in advance. In some cases, an additional fee may be charged. Our friendly and professional staff are always available to assist you in case of any doubts, so please do not hesitate to contact us.
UK Nationwide Delivery
Timber Building Specialists aim to fulfill all orders within 2-4* weeks or at the earliest opportunity, in most cases offering a free delivery service.
At Timber Building Specialists, we are committed to delivering top-quality log cabins, garden rooms, and leisure buildings to you in the most efficient and convenient way possible. We offer delivery across the UK and have a team of experienced drivers who are equipped to handle all your delivery needs.
To ensure a smooth delivery process, we request that you inform us of any restrictions that may affect our access while delivering your product. Our delivery vehicles vary, depending on the product ordered, but typically require a 10ft wide clear access with a height restriction of 10ft. Don't worry, should there be any obstacles in our way, our experienced team will work to overcome them. However, please note that additional fees may apply.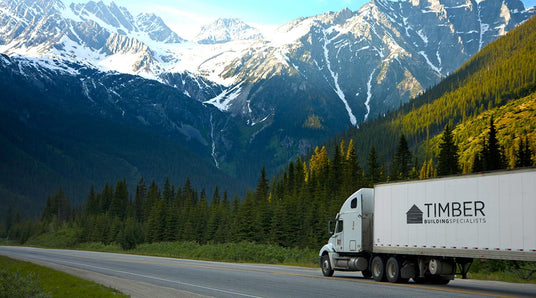 Smooth Delivery Process
Our delivery periods vary, with standard buildings, such as popular cabins being available on a shorter delivery period (2-4 weeks) than custom-made products. For an estimate on the delivery period of your chosen product, please contact our sales team.

We provide advance notice of an exact delivery date, which can be rescheduled at no additional cost if it does not suit you. If you require a product by a specific date or need assistance due to large vehicle access concerns, please do not hesitate to contact our sales staff for advice.
Our Delivery Areas:
At Timber Building Specialists, we have a map that enables customers to check delivery availability and charges. We operate Monday to Friday, anytime between 07.00hrs and 18.00hrs. Our ONE MAN DELIVERY SERVICE delivers to your home (KERBSIDE ONLY), and we also offer a TWO PERSON DELIVERY SERVICE for an additional fee. With this option, your log cabin components will be delivered to the rear of your home, subject to access and distance.

Please note that we make one charge per delivery for each zone, irrespective of the number of log cabins you are having delivered. In case you are not available on the day of delivery, and you require us to leave the log cabin in the rear area of your address, please note that you will bear full responsibility for any loss or damage that may occur due to theft or bad weather conditions.
What you need to prepare for the delivery?
To help ensure smooth delivery, here are some things to consider:

● Inform us of any restrictions that may interfere with delivery vehicles' access.
● Ensure a clear pathway for delivery from the access point to the delivery point.
● Arrange for any temporary restrictions to be lifted, such as permit parking or street closures.
● Ensure that the delivery point is clear of any potential obstructions like parked cars or overhanging trees.

We, at Timber Building Specialists, are committed to ensuring that our products reach you in the best condition possible. For any further queries or assistance, please reach out to our sales team.