Solair Log Cabin | 4.0x8.5m
Tax included
Shipping
calculated at checkout.
---
Solair Log Cabin | 4.0x8.5m - 70mm is backordered and will ship as soon as it is back in stock.
---
Couldn't load pickup availability
Solair Log Cabin | 4.0x8.5m
Garden Log Cabin | Bertsch Holzbau
Introducing the Solair Log Cabin | 4.0x8.5m

Welcome to our Timber Building Specialists, where we bring you the finest selection of premium log cabins. Get ready to elevate your outdoor living experience with the remarkable Solair Log Cabin.

Crafted with precision and designed to impress, the Solair Log Cabin is the epitome of elegance and functionality. With its generous dimensions of 4.0x8.5m, this spacious retreat offers you endless possibilities to create your dream sanctuary.

Step inside and be greeted by the warm embrace of natural timber. The sturdy interlocking log construction not only ensures durability but also creates a cozy and inviting atmosphere. Whether you're seeking a peaceful home office, a serene yoga studio, or a tranquil guest retreat, the Solair Log Cabin is your perfect solution.

Embrace the beauty of simplicity with the Solair Log Cabin's open-plan layout. The expansive interior provides ample space for you to unleash your creativity and design a personalized haven. With its versatile design, you can easily customize the space to suit your unique needs and preferences.

Featuring large double-glazed windows and doors, the Solair Log Cabin bathes the interior in an abundance of natural light, creating a bright and airy ambiance. Imagine basking in the sunlight as you indulge in your favorite activities, surrounded by nature's beauty.

Built to withstand the test of time, the Solair Log Cabin is constructed from high-quality, sustainably sourced timber. This not only ensures its longevity but also contributes to a greener future. Rest assured, your investment in the Solair Log Cabin is both environmentally conscious and built to last.

With its easy-to-follow assembly instructions, setting up your Solair Log Cabin is a breeze. Our team of Timber Building Specialists is here to assist you every step of the way, ensuring a seamless and stress-free installation process.

Transform your outdoor space into a haven of tranquility with the Solair Log Cabin. Embrace the beauty of nature, immerse yourself in comfort, and create unforgettable memories in your own private retreat.

Indulge in the Solair Log Cabin today and experience the pinnacle of luxury and craftsmanship. Enhance your outdoor living experience with the finest timber building available – only from our Timber Building Specialists.
TECHNICAL SPECIFICATIONS
Design Type - Log Cabin Construction / Summer House
Roof Form - Apex Roof
Thickness - 70 mm
Wall Outside Dim (W/D) - 450 x 850 cm
Side Wall Height - 258 cm
Ridge Height - 370 cm
Cubic Content - 115 m³
Wall area - 90 m²
Roof Area - 53,2 m²
Roof Overhang Front - 70 cm
Roof Overhang Back - 30 cm
Roof Overhang Left - 30 cm
Roof Overhang Right - 30 cm
Roof Slope - 25 °
Doors - 2 x DT 150 x 200; ET 88 x 200 cm
Windows - 2 x EF 70 x 200; 2 x DF 120 x 200; 3 x DF 140 x 98; EF 60 x 60; 2 x FF 110 x 55cm
At Timber Building Specialists, we offer nationwide delivery across the UK for all our products. Our delivery vehicles are specially designed to cater to different products, and we rely on our customers to inform us of any restrictions when ordering. Generally, we require a 10ft wide clear access with a 10ft height restriction, but with our expertise and experience, we can overcome most obstacles as long as we are informed in advance. In some cases, an additional fee may be charged. Our friendly and professional staff are always available to assist you in case of any doubts, so please do not hesitate to contact us.
Bespoke Log Cabin
Customise Your Log Cabin
If you would like to make amendments to one of our cabins, or would you prefer a fully bespoke design, Fill in our custom log cabin form with some details on your project and upload your plans for a free, no obligation quote. Our experienced team will get back to you as soon as possible.
Speak To Us Directly
---
Log Cabin Features
Features of the Solair Log Cabin | 4.0x8.5m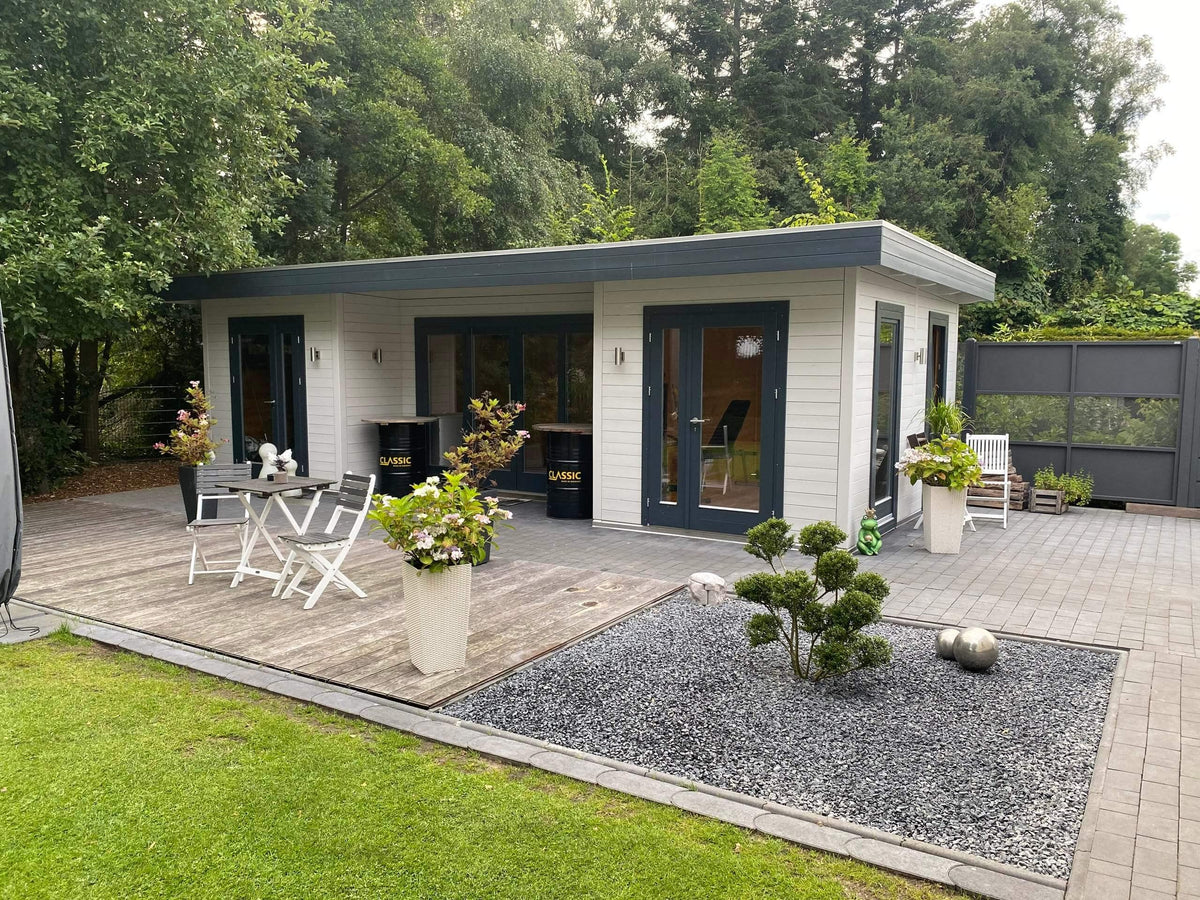 More From The Timber Building Specialists
Nationwide Fitting & Base installation

At the Timber Building Specialists we offer Nationwide Fitting & Base installation. Each fitting and installation quote is bespoke to your log cabin requirements, therefore we ask you to get in touch with us via phone or email for an accurate quote and time frame.

Customised Log Cabins

At Timber Building Specialists, we provide bespoke log cabins that are built to your exact requirements. Create a unique design tailored to your specific needs, and our experienced staff can help you plan out your cabin layout, size and style. With us, you can choose from a variety of layouts and custom options such as the size, shape, and positioning of windows, doors and verandas.

More Information:
Base Installation, Log Cabin Fitting