TURKU Barrel Sauna | 2.4x4.5m
Tax included
Shipping
calculated at checkout.
---
TURKU Barrel Sauna | 2.4x4.5m - 40mm / Wood Burning Heater (Included) / Black Shingles (Included) is backordered and will ship as soon as it is back in stock.
---
Couldn't load pickup availability
TURKU Barrel Sauna | 2.4x4.5m
TURKU 2.4x4.5m Barrel Sauna

Looking for the perfect place to unwind and relax? Look no further than the Turku Barrel Sauna 2.4x4.5m with electric heater or wood burner. This sauna is perfect for any home, cabin, or backyard, and features a spacious interior that can accommodate up to six people. The Turku Barrel Sauna is constructed of high-quality materials and comes with a five-year warranty, ensuring years of enjoyment.




For ultimate relaxation, the Turku Barrel Sauna features an electric heater that can reach temperatures up to 194 degrees Fahrenheit. And for those who prefer a more traditional sauna experience, there is also the option of using a wood-burning stove. With its clean lines and modern design, the Turku Barrel Sauna is sure to become a favourite gathering place for family and friends.

 

The pre-assembled barrel sauna set includes:

100% Nordic high quality spruce used as wood material
Sweating bench in the steam room
Sitting benches
Wood-heated retina heater
High-quality chimney with damper and water tank 22 L
Sauna stones 100 kg
Heat-resistant base, casing and back wall of the heater
Externals painted with Teknos AQUAPRIMER stain TM 1824
Black honeycomb ruberoid on the roof
Window in the steam room with tempered glass
Log thickness: 40mm
Side wall height: Ø 240 cm
Ridge Height: 248 cm
Roof surface: 17,7 m2
Front overhang: 104 cm
Floor surface: 10,7 m2
Floor boards: 28 mm
Volume: ca 14,5 m3
Window: 2 x 390 x 480 mm, 2 x 410 x 915 mm
Wooden door: 1 x 690 x 1835 mm
Sauna Door: 1 x 690 x 1915 mm
BOHLE External Dimensions (W x D): 240 x 447 cm
At Timber Building Specialists, we offer nationwide delivery across the UK for all our products. Our delivery vehicles are specially designed to cater to different products, and we rely on our customers to inform us of any restrictions when ordering. Generally, we require a 10ft wide clear access with a 10ft height restriction, but with our expertise and experience, we can overcome most obstacles as long as we are informed in advance. In some cases, an additional fee may be charged. Our friendly and professional staff are always available to assist you in case of any doubts, so please do not hesitate to contact us.
Bespoke Log Cabin
Customise Your Log Cabin
If you would like to make amendments to one of our cabins, or would you prefer a fully bespoke design, Fill in our custom log cabin form with some details on your project and upload your plans for a free, no obligation quote. Our experienced team will get back to you as soon as possible.
Speak To Us Directly
---
Log Cabin Features
Features of the TURKU Barrel Sauna | 2.4x4.5m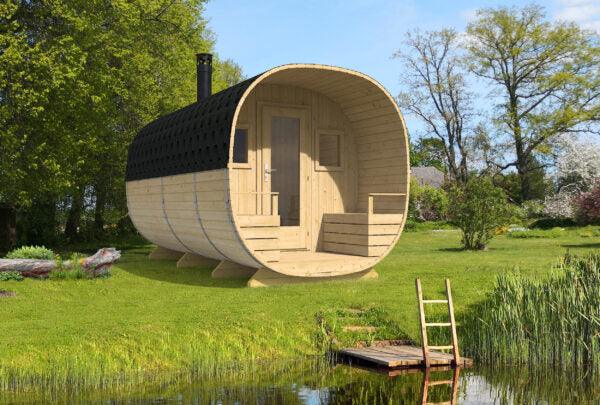 More From The Timber Building Specialists
Nationwide Fitting & Base installation

At the Timber Building Specialists we offer Nationwide Fitting & Base installation. Each fitting and installation quote is bespoke to your log cabin requirements, therefore we ask you to get in touch with us via phone or email for an accurate quote and time frame.

Customised Log Cabins

At Timber Building Specialists, we provide bespoke log cabins that are built to your exact requirements. Create a unique design tailored to your specific needs, and our experienced staff can help you plan out your cabin layout, size and style. With us, you can choose from a variety of layouts and custom options such as the size, shape, and positioning of windows, doors and verandas.

More Information:
Base Installation, Log Cabin Fitting